ESSE 2021
Du 30/08/2021 au 03/09/2021
Lyon - France
---
All participants (ESSE members and non-ESSE members) need to register.
Registration fees
Registration is free for ESSE members
Early-bird fees (until June 15
th
)
Non-ESSE-member participant:
35 €
Regular fees (from June 16
th
)
Non-ESSE-member participant:
50 €
Registration procedure
1. To register for the ESSE 2021 conference, please go to the
Pre-register
tab and create your account. You will receive an email with a link to confirm your account.
2. Please sign in with your email address and password. Go to the Pre-register tab and accept the terms of the contract.
- If you are a member of ESSE, your registration is done and will be validated within 72 hours.
- If you are not a member, please continue your registration until payment.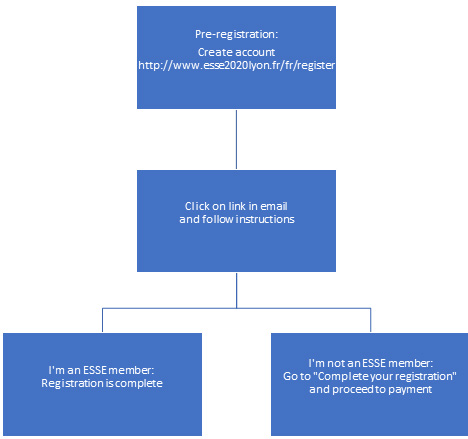 Cancellation policy
If a cancellation is received by the conference secretariat no later than 15 days before the start of the conference, the reimbursement of the registration fees, less 10% for the application fees, will be made.
After that date, or if registrants fail to attend the Congress for any reason whatsoever, regrettably no refund can be made.